Eija knows the best about the greatest look of the season! If you are looking for sports equipment or free-time clothing, Eija will give you the best tips!
Jari is here to sell only the best options. And when he is not selling, he is either renting or fixing equipment for you. Jari is a very international man, and loves to have long conversations. Watch out!
Emppu is the man of the house. What Emppu can not get, then there is no use for it. Emppu has been in Ylläs his whole life, and he will bring equipment to your accommodation even, if needed.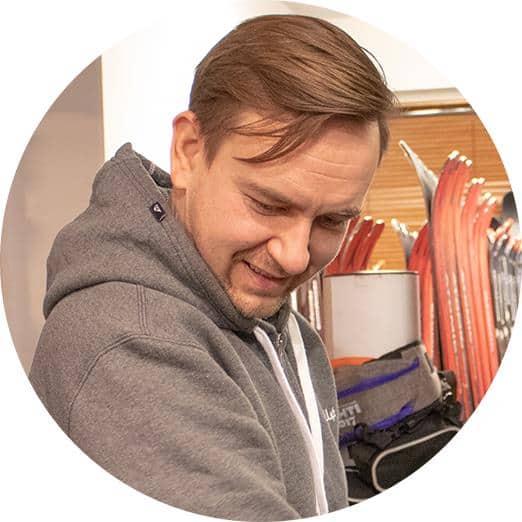 Jukka knows the environment and equipments especially well. If Jukka is not found from Jemes, most likely you will see him in the bike or skiing tracks. If you need assistance about which kind of routes Ylläs has, Jukka knows the best!
Markus
Hiker without equal
Markus makes sure that you get exactly the right equipment if you are planning a week off in the forest or just a day downhill skiing. Markus loves to bike, and he knows all the routes in the area like his own pockets.
Eveliina is the youngest master of the house, and she knows what is the most trending topic around young people.
Ville is the rental centre's newest assistant with a strong knowledge of hi-tech equipment and taking care of bumps. Feel free to grab his sleeve and ask for help!
Amanda has an eye for fashion! From her, you can get tips on how to get ready for this winter season in terms of equipment fashion. Amanda will guide you!